Thursday, April 17, 2008
I decided to recycle some Jeans and incorporate a pocket from them on the front as well as the back of the bag, using a crazy patch style. All the seams are decorated with decorative stitches.
I used my embroidery machine to write the letters. the shoes and tyhe face. The size is 14"x14" and has a zipper closing. Isn't it cute!!!!


Posted by

Maggie R
at 12:19 PM
3 comments:


I just finished another page for my Beaded Journal Project. My theme for this project is "Song Titles" and this one is "Starry Starry Night"
I admire Vincent VanGogh's work and I decided to use his work for this page. I love the song that goes with it too.
I think I should have chosen to work in a smaller size. The postcard size (4"x6") takes a long time to complete. However I am commited and I will see it through.
I am not a real experienced beader and I found achieving the swirls was a bit of a problem. I think I redid a few areas twice!!!! No fun there!
I am about 60% happy with the finished piece.
Posted by

Maggie R
at 12:02 PM
16 comments:


Monday, April 7, 2008
Hi Everybody....
Seems we are really in the "Pink" these days.
This post is dedicated to all who have experienced breast cancer or knows someone that has.
It is a dreadful disease and the journey continues to find new ways and means to raise money to try to stamp it out.
I personally am involved in making quilts for
"The Quilt"
held in Stratford ,Ontario, Canada each November. The quilts are auctions off and all money goes for breast Cancer Research. Anyone can be a part of this and quilts come from all corners of the world. It feels good to be a part of a worthy cause.
When Monica Magnus came along with the "Pink Square" project I couldn't wait to jump in.
Monica, you are to be congratulated on this magnigicent doll. I realize it is as you put it "Our Doll" but your expertise has certainly shone here. I love her and I can't wait to see her in the spotlight completing her journey. One lucky person will eventually own this beauty when it is auctioned off on EBay...... but only after she has her day in the sun in the ART DOLL QUARTERLY......Oh the excitement of it all.. I'm sure everyone who made a contribution is as happy as I am to have been a part of it all. Thanks Monica, You are a doll yourself and I love your creative abilities. You are truly and inspiration and I thank you from the bottom of my heart.
To see everything about this project please take time to visit"
Love Squared
" on Monica's blog
Ho Hum....... I wonder what will happen to-morrow!!
Posted by

Maggie R
at 10:29 PM
4 comments:


Hi Everyone....
Here I am at last with one more thing finished to show you. This is going to JoAnne Owens's
"
In The Pink
" collaborative book she is creating. This piece is in the form of a postcard. I chose a dragonfly theme because as I know it " Dragonflies" mean friendship. I hope she likes it.....
Now onward and upward.... I wonder what to-morrow will bring!
Posted by

Maggie R
at 3:15 PM
4 comments:


Wednesday, April 2, 2008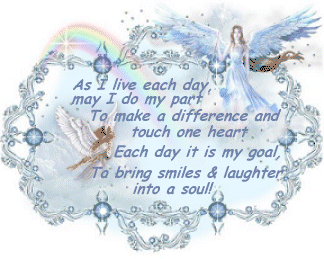 glitter-graphics.com
I'm not sure if it is Spring yet! The snow is still around and it is still cold. I think I will go back to sleep!
Posted by

Maggie R
at 9:41 AM
7 comments: